Hot Sun Industries Ltd is a Canadian solar energy company. We focus on the development and implementation of solar energy, renewable energy and energy efficiency technology that can compete head on with fossil fuels. In many of the large scale applications where solar thermal and other technologies have a fighting chance we're competing with natural gas. Natural gas is inexpensive and exploration is heavily subsidized. Subsidies for solar thermal energy deployment in Canada however, were canceled as of December 2010. Since our humble beginnings in 1986 we've had to stick to the most tried and true of solar thermal applications, swimming pool heating. Our US branch, Hot Sun Industries Inc of Poway CA supports many of our Canadian technology development initiatives through sales of our flagship product, the Hot Sun solar heating system for swimming pools.
We manufacture the Powerstrip solar collector in BC for Canadian use. We also manufacture our own line of web based control automation and monitoring. Our SWIM PC technology (Solar Water Internet Monitoring- Programable Controller) has allowed us to quantify and document our own solar heating systems proving the viability of solar pool and water heating with Powerstrips. This technology is also the key to ensuring long term success of solar heating projects. We find that once we have transparency we discover issues we never could have imagined and we're able to correct them easily. In addition our control and monitoring technology allows remote control and programming. The field personnel don't need to spend all day setting systems up and separate controls companies don't have to learn solar control strategy. On a broader scale this technology allows us to quantify all things clean tech and this will allow engineers and decision makers to move away from the current crap shoot approach to niche alternative energy deployment.
What technology makes sense in what applications? The answers are usually complex. Almost every clean tech initiative has a rightful place in the market. We've taken it upon ourselves to begin the process of figuring out where those places are, one demonstration project at a time.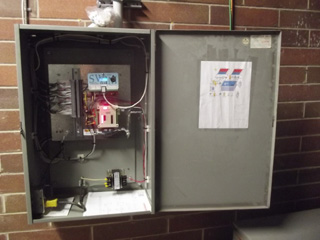 A SWIM PC system built out to control two 600V pumps, two 3 way valves, from 12 temperature inputs and 2 pressures